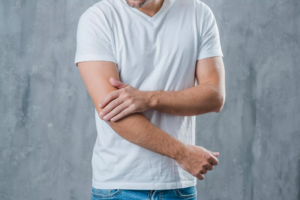 For someone with elbow pain doing normal everyday tasks can be nearly impossible and will impact their daily lives. Not the only pain, but elbow problems can lead to problems with your wrist and hand as well. Many of my patients that had elbow pain notice reduced function of their hands, most commonly in their grip strength.
Elbow pain is frequently associated with certain types of sports like; golf, hockey, tennis, squash. racquetball, badminton or table tennis. It is also a common condition in many trades but especially with people who do manual, or repetitive work.
Repetitive microtrauma as with various sports.
Overuse from manual labour or starting something new.
Poor posture like if you carry your shoulder forwards
Inflammation
Trauma from falls or impacts.
Underlying disease or pathology this is rarer.
But why did I get elbow pain?
Once the bad things like fracture or any underlying disease are rules out, we usually find some sort of mechanical or musculoskeletal imbalance that paired with your particular circumstances caused some tissue in your elbow to become irritated or inflamed and painful and you are just not able to get it out of this on your own or else it would just heal up in a few weeks. This is very common and I have helped hundreds of people get back onto the healing path from elbow pain.
How can chiropractic help with elbow pain?
Here at Back & Neck Care Centre I take a look at not only the site of your pain but how other parts of your body may be effecting your elbow. The with your permission I treat the musculoskeletal imbalances and any neurological imbalances to take the stressors off the elbow. Then I do therapies that are intended to start the healing process and reduce the inflammation which is usually what makes you feel pain.
Call Today to Schedule a Consultation with Back & Neck Care Centre. 
We'll let you know if we can help you, and if we can't, who can. 
(07749) 772093